O.K. Spring…You can show up now! Living in the Midwest I should be use to the crazy climate, but snow in April is just obnoxious. Until this bipolar weather decides to take a hike I will be locked in doors making spring crafts with the kiddos to adorn my home with. This Beautiful Footprint Butterfly Canvas looks gorgeous up on my kitchen wall right next to my little ones Spring Time Carrot Canvas, also stamped with their little feet.
Every time I'm about to make hand or footprint art I first get my supplies all together. While gathering my supplies there is one must have item to posses when involving paint and my children, that secret weapon…Baby wipes! The millisecond after that footprint or handprint in adorably and strategically planted on the canvas, I quickly wipe all the paint off my kids with the baby wipe, keeping my floors and walls mess free!
The second secret weapon I use… Command Picture Hanging Strips by 3M
I used these awesome Crayola Neon Paints for the butterflies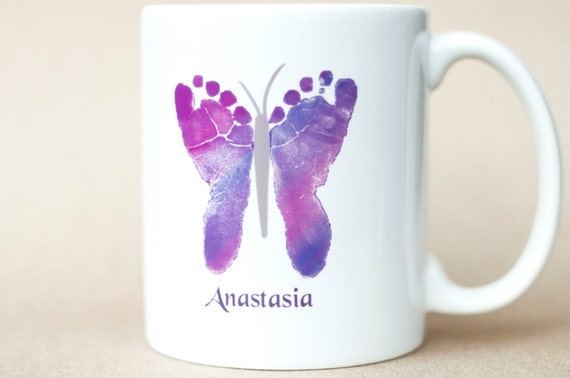 This was another Pinterest find… Is this not a perfect gift for a new Parent or Grandparent!!! Click on picture below for direct link to the Esty store MischiefMugs for purchase!

Print
FootPrint Butterfly Canvas
---
Canvas
Paints
Foam brush or paint brush
Permanent black marker
Paper/plastic paint
Optional:
Paper or plastic sheet
Baby wipes
Command Picture Hanging Strips by 3M
---
Instructions
Apply two(or more) different colors of paint to your child's foot
Stamp the little ones feet on to the canvas
Use baby wipes for quick and easy paint removal
Set canvas aside to dry
Once paint is dry use black permanent marker to draw the body for the butterfly and antennas
Optional: Use Command Picture Hanging Strips by 3M to hang your beautiful artwork
Other Crafts and Activities to Explore
This Halloween Ghost Canvas is unbelievably adorable hung up on a wall! Do you want to make a memory that […]